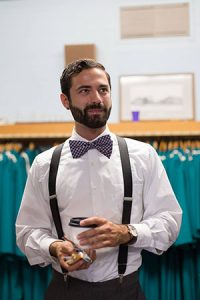 Brian's first home was the cabin of a hospital ship off the coast of Guinea. With missionaries for parents, he has called many places home. Though the majority of his childhood was spent in a small town in East Texas, he has also lived in Switzerland, Upstate New York, and Colorado.
He graduated with a Bachelors in International Relations from Wheaton College in 2014. He focused his studies primarily on development in the Francophone world. His biggest take away from his time at Wheaton was the immense power of education.
A musician himself, Brian loves to play guitar, sing and write his own tunes. He is so excited to be a member of the team at the Jerry Evans School of Music, where the power of education and the power of music meet.
He now lives in Oak Park, Illinois with his lovely wife, Brannon. They love riding bikes, cooking, gardening, and taking care of their 15 freshwater fish.