Karina Harro | School Administrator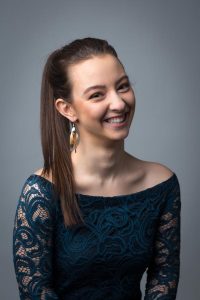 Karina Harro is a Chicago area horn player originally from St. Petersburg, Russia. While living there, she studied at the Anichkov Palace and the Rimsky-Korsakov St. Petersburg College of Music. After moving to the United States, she earned her Bachelor of Music degree along with elective studies in Christian Education from Wheaton College in 2018.
Since college, Karina served multiple summers in the orchestral music staff at Camp of the Woods in Speculator, NY, and coached horn students with the Schaumburg Youth Symphony. She also worked at a nursing home and continued to study, perform, and teach the horn.
Karina is now delighted to be a part of the administrative team at the Jerry Evans School of Music to give back to and join with the Wheaton community which helped form her own musicianship. She loves that the Jerry Evans School of Music focuses on enjoyment, learning, and connection – all within the context of music – saying, "I believe learning should capitalize on enjoyment so that the two can perpetuate each other. High quality education can and should include delighting in the subject matter." Karina joins the school eager to connect and engage people with music.