Adam Hawthorne | Wheaton Saxophone, Clarinet, and Flute Teacher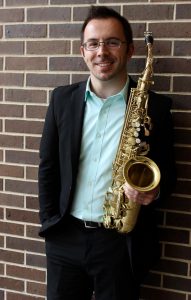 Adam Hawthorne is a highly experienced Saxophone, Clarinet, & Flute teacher and player with nearly 10 years of teaching experience. Adam holds a Master's degree in Saxophone Performance from Northern Illinois University where he held a graduate assistantship, and he holds his Bachelor's degree in Music Education from the University of Illinois at Urbana-Champaign.  Adam is an active performer and educator in the Chicagoland area. Adam has also worked as a band director at both the junior high and high school levels.
Adam is highly skilled in Classical, Jazz, Chamber Music, Soloing, or any other modern style of music or situation. Learning with Adam, students can excel in their school band, orchestra, or jazz ensemble, as well as learn any other style they love (like pop, rock, etc..). Adam is a kind and caring teacher of the utmost excellence, and he is glad to be a part of the Jerry Evans School of Music to help students excel in music and play music that they love.
Adam  was part of a recording project titled Percy Grainger, Music for Saxophones, a collection of previously unreleased chamber music by Percy Grainger, released under NAXOS Music. As a soloist, Adam has performed with the Northern Illinois University Philharmonic as a two time winner of the NIU Concerto Competition, and was one of 40 saxophonists selected to compete in the inaugural International Saxophone Symposium and Competition in 2012. As a chamber musician, Adam performed with the Scion Saxophone Quartet at the NASA Region V Conference in 2013. Hawthorne performed with Saxophonists Claude Delangle and Debra Richtmeyer as a member of the University of Illinois Saxophone Ensemble.
In addition, Adam Hawthorne has performed with the University of Illinois Wind Symphony, as well as both the Northern Illinois Wind Ensemble and Jazz Orchestra. He currently holds a position as saxophonist with the Wheaton Municipal Band, of which he has been a member since 2018. Adam has also appeared in numerous theater productions as a multi-instrumentalist with the Champaign-Urbana Theater Company and Illinois Student Musical Organization.
Interested in Lessons from Adam Hawthorne the Chicago Woodwind Teacher?
Get in touch today as we proudly serve the Chicago Western suburbs including Wheaton, Naperville, Glen Ellyn, Winfield, Carol Stream and the surrounding communities.