John Gutierrez | Piano Teacher in Wheaton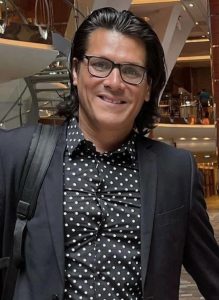 John Gutierrez holds his Bachelor's Degree in Music & Business from Elmhurst University. John has played for audiences of 20,000+ people, and has toured America and the world extensively as a musician. John has performed with several Grammy Award winning artists, has served as a Church music director, and understands what it means to be successful in music in any setting. John has been teaching for 30+ years, and is fluent in multiple styles of music. Whether it be Classical, Jazz, Pop, Rock, Latin, etc…., John can help students play music that they enjoy, and help them find joy in music.
After 4 decades in music, John is still enjoying music more than ever. John writes: "It gets sweeter and sweeter every day…the more work I put into it, the more I benefit. I once heard that "Music is the gift that keeps on giving" I want to pass the love of music and people on to my students and lead them into discovering their talents and love for music. There is nothing more rewarding to me than imparting my experience, knowledge, and skills to my students regardless of their age.
I love being a musician, it is a huge part of who I am. I spent tens of thousands of hours practicing, rehearsing and performing and never really felt that it was work. As the saying goes "If you love what you do, you'll never have to work another day in your life" I've traveled the world over 100 times spreading the message of love, hope, imagination and wonder through music. Music transcends this life and makes the journey wonderful. I hope to spread that message and skill to my students."