Joshua Burgess | Wheaton Saxophone, Clarinet, and Flute Teacher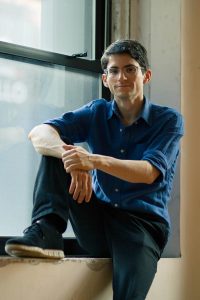 Joshua Burgess is a multi-instrumentalist, composer, producer, educator, and New Yorker turned Chicagoan. Joshua earned his Bachelor of Fine Arts degree in Jazz Performance at the City College of New York where he studied with saxophonists Tim Berne, Ingrid Laubrock, Jason Rigby, Steve Wilson, and Tony Malaby. He has taught a wide range of ages, from single digits to university and beyond and has taught on behalf of the City College of New York and the Peabody Institute of the Johns Hopkins University.
Joshua has performed at major venues in the U.S. and abroad including Carnegie Hall, Jazz at Lincoln Center's Appel Room, Dizzy's Club Coca-Cola, Shapeshifter Lab, Cleopatra's Needle, An Die Musik, The Jazz Gallery, The Windup Space, and many more. He has performed with veteran musicians including Tom Rainey, Ray Gallon, Jure Pukl, Chanda Rule, Walt Weiskopf, Michael Formanek, Ralph Alessi, Franz Hackl, Amanda Bloom, and Adam O'Farrill. Joshua has also performed with numerous large ensembles including the NYYS Big Band, the Liberté Big Band, the CCNY Jazz Ensembles, and the Peabody Institute Jazz Ensembles.
Joshua has the ability to play in any style, including Rock, Pop, Blues, Classical, Punk, Jazz, and more, and this is evident in his compositions. His original compositions for woodwinds, keyboards, and electronics incorporate drones and loop sounds; recorded and processed audio samples; folk, free jazz, and ambient influences.
Joshua is also highly passionate about education and strives to be an effective mentor to developing musicians. Joshua teaches a wide range of instruments and subjects including saxophone, flute, clarinet, wind controllers, beginning piano, synthesis, music theory, ear-training, composition, and audio engineering. He is glad to be at the Jerry Evans School of Music to impact the lives of the students here.
Interested in Lessons from Joshua Burgess the Wheaton Woodwind Teacher?
Get in touch today as we proudly serve the Chicago Western suburbs including Wheaton, Naperville, Glen Ellyn, Winfield, Carol Stream and the surrounding communities.