Doménico Polo | Guitar, Ukulele, and Bass Teacher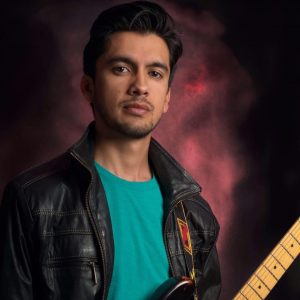 Doménico Polo is a professional musician with a Bachelor of Music degree in Music Production and Acoustics with a minor in Jazz Performance from Universidad San Francisco de Quito. Doménico has been teaching for 13 years, and he taught at the collegiate level with Alliance Academy International. Doménico worked with Orange Wave Studios as a composer, and his work was used on national advertisements.
Doménico also worked as a band director for an American School in Ecuador where he directed the elementary school, middle school, and high school Concert Bands and Jazz Bands. During his time teaching, these ensembles reached a level of excellence in which they could go on tour around the country. Doménico was the producer of many local bands as well as recording music with his own band, some of which is still being played on Ecuadorian radio to this day.
Doménico is a phenomenal guitarist who has the ability to play in any style, including Rock, Pop, Blues, Country, Punk, Jazz, and more! Doménico is very well versed in all main guitar techniques and can help any students (beginner to advanced) grow as performers and musicians. Whether your goal is to play in a serious Rock, Blues, or Pop band, or play simple music at home just for fun, Doménico can help you towards your own personalized goals.
In 2017, Doménico moved to Minnesota with his wife so that they could explore new artistic opportunities. Doménico was a hired pit orchestra guitarist, a bass guitar player in a local cover band, all the while creating his own band in which he was not only the lead guitarist, but also the composer, producer, and manager.
Doménico and his wife now live in Illinois, and he is excited to continue his musical career by teaching at Jerry Evans School of Music, where he can combine with his passion for music and teaching.