Hristo Mintchev | Guitar and Ukulele Teacher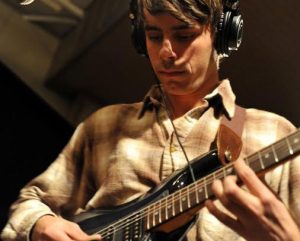 Hristo Mintchev holds a Bachelors Degree in Music from Columbia College in Chicago. Hristo teaches Electric Guitar, Acoustic Guitar, & Ukulele and is proficient in all styles of music, whether it is Rock, Pop, Jazz, Classical, Blues, Punk, Fusion, Funk, Bluegrass, & Christian/Gospel. Hristo has had opportunities to perform & tour nationally, and is sponsored by Converse as a performer.
While in Columbia Hristo took primary lessons with Harry Hmura a fusion guitarist who recorded guitar for the musically complex and world-famous Halo series video games by Microsoft studios. Hristo also took lessons with Peter Lerner, a prominent Jazz guitarist in the Chicago music scene.
At age 15 Hristo recorded his first full length album named Humanities with a heavy rock group called Vera which went to tour nationally. Hristo was part of a rock group called American Wolf which released 3 albums "Tales of Kamanakara", "Myriad", "My Main Sport", and features Hristo as songwriter and lead guitarist. Hristo also formed an instrumental group called Columbian Exposition which recorded two studio albums.
Hristo has been teaching for 10 years, and loves to help students play music that they enjoy. Hristo is kind hearted, and thoughtful in his teaching, and desires to help students express their inner voice in music. Hristo likes to partner the interests of the student with solid fundamentals so that students can play the music they love and grow as an instrumentalist in the process.
Hristo grew up in Sliven, Bulgaria, and immigrated to the United States along with his family at the age of 7. After moving to the United States, Hristo found that music offered a creative outlet that transcended any cultural divide and began experimenting with music. At age 13, Hristo picked up the guitar and began his musical journey. Hristo's extensive work in Chicago Public Schools has allowed him to spread the message of music all throughout the Chicagoland area.
---
Check out our guitar teacher Hristo's doing improv on Alicia Keys – If I Ain't Got You