Frank Giarratano | Guitar, Ukulele, and Bass Teacher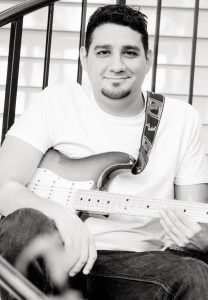 Frank Giarratano holds a Master's degree in jazz guitar performance from Northern Illinois University, where he studied under 2018 Best World Guitarist professor Fareed Haque, founder of Mathgames and Garage Mahal. Frank also holds a Bachelor of Music degree in jazz studies from North Central College, where he studied with established jazz guitar professor John McLean.
Frank is a gifted guitarist who has a passion for teaching and performing. Frank can play or teach any style of music, from AC/DC, Bethel, Jimi Hendrix, Taylor Swift, Hillsong, jazz composition, Beatles, grunge, and more. Whether it is rock, jazz, pop, country, blues, funk, punk, Frank can play and teach it with versatility. Frank is very friendly, personable, and has a positive attitude, which enables his lessons to be exciting and motivating. He has been playing guitar for over 20 years and has been teaching for 13 years.
Frank has performed in various venues in the Chicagoland area as a professional musician on solo guitar and in bands. He started a classic rock band called Millennium Falcon, which has played for over 10 years. Two years ago, he started his own solo career with the Frankie Smiles Project. Frank has even donated his time to various fundraisers for Northwestern Medicine and various art shows. He also performs at weddings, receptions, and private parties.
Frank's love for music started at the age of 15, when he got his first guitar. He noticed he had an unequivocal ability to learn songs quickly, which drove him down a path to pursue music as a career. Frank is determined to help each student accomplish his or her goals. He understands that everyone comes from different starting points and is determined to provide solutions for a fun learning atmosphere to give students the confidence to face any challenges along the way.