Allison Rozsa Evans | JESM Wheaton Voice Teacher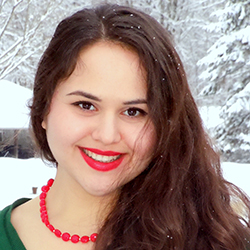 Allison Rozsa Evans, born in Cleveland, earned her Master of Music in Vocal Pedagogy and Bachelor of Music in Voice Performance from the Boston Conservatory. There, she had the privilege of studying voice under Monique Phinney.
Ms. Evans has performed in concert, operatic and choral engagements in the USA and Europe. In fact, she has had the privilege of singing the role of La Chauve-Souris in Ravel's opera L'enfant et les Sortileges, under the baton of Andrew Altenbach, and in concert as Donna Elvira in Mozarts opera Don Giovanni. Additionally, she has sung concerts at the Universitaire de Savoie in France, and with the New England Philharmonic. Recently she was seen performing Kids'll Say the Darndest Things, a concert of music by Barber, Bernstein & Chanler in the summer concert series at the Grace Episcopal Church in Oak Park, Illinois. Also she has coached under Michael Strauss, Metropolitan Opera singer Sondra Kelly, and renowned Grammy Award winning singer Christine Brewer.
Started at JESM
As a recent transplant to the greater Chicago area, Ms. Evans teaches voice lessons to students of all skill levels in a variety of styles. As well as gives regular studio classes, and vocal health lectures to choirs at Chicago area schools. Her teaching engagements include the JESM in Wheaton, IL and as a coach for the singers in the Chicago Syntagma Musicum Summer Opera Workshop. Allison is also an active member of the National Association of Teachers of Singing (NATS). Additionally, she recently joined the Chicago chapter a junior board member assisting in facilitating competitions, workshops and other events. Allison Rozsa Evans is thrilled to join colleagues Rebecca Schorsch and Klaus Georg as Co-Advisors for the Chicago Chapter Students NATS to uplift the work of Chicago area student singers and teachers.
Ms. Evans loves to work with students of all ages, styles, and skill levels from beginner to professional track singers. Her aim is to help each student grow to their fullest potential catering to their learning style and needs.
Testimonials About Allison Rozsa Evans
Allison Evans is a five-star teacher. She not only understands every aspect of singing, but also she is an excellent teacher of voice. She can find your strengths, diagnose your opportunities for improvement, and personalize the course of instruction to ensure success.

I would highly recommend her to anyone who is interested in improving his/her voice. As a low baritone and a male, I was a bit apprehensive to having a teacher whose voice was so different from mine. These fears were quickly put to rest, and it would be no stretch to say that Allison understands my voice much better than my previous male instructors.

In addition to being a highly skilled singer and teacher, Allison is friendly, professional, and organized. She tailors her lessons for each student, helping me, for example, to incorporate my guitar into our lessons and to work on Beatles tunes and other bands that I listen to. These are all qualities you might take for granted, until you experience a teacher who is not professional or not invested in you.

I have to be honest...I've had a few vocal teachers, not knocking the previous ones (they were good) but Allison was by far the best. I trained under Allison for two plus years? It was a bit. She actually taught me how to read music and encouraged learning to play an instrument for singers as a way to improve ability. Most of all, she actually taught me how to sing.....

It's rare to meet a coach who is both professional and with great personality and she is both. If I said everything about her that I could say this review would be the length of an essay. The most important lesson I learned from her is that great singing takes TIME to develop. Be patient with yourself. That's essential in a day of instant singing sensations, auto tune and studio magic.

I enthusiastically recommend Ms. Allison Rozsa Evans. She is working with my daughter and we are beginning to see excellent results. She works well with young people getting them excited about singing as well as teaching them ways to keep their voice healthy. She has great experience and is helping to continue the overall musical development of our daughter. Allison gives assignments but not too much, to keep the singers engaged until the next lesson. She also has the students set goals for their practice sessions thought-out the week. My daughter loves music and singing and Allison is helping to continue building on that passion.

Allison Evans is a wonderful voice teacher! I grew up singing but never had private lessons or achieved the strength or range that I wanted. I remember leaving my trial lesson with Allison feeling like I was really hearing my voice for the first time in ages :)

I highly recommend her as a teacher because she gets to know you and teaches you in a very tailored, individual way. She is also very supportive and encourages her students to get out, perform, and use the skills she has taught. And she hosts an annual recital for all of her students to perform for their family and friends, which is a lot of fun.