Alexandra Jimenez | JESM Wheaton Voice Teacher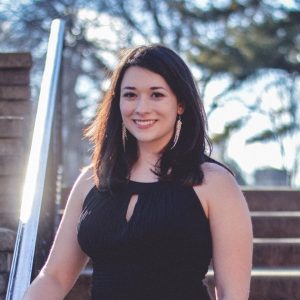 Alexandra is a graduate of the Wheaton College Conservatory of Music in Wheaton, IL where she studied Voice Pedagogy.  Alexandra studied under Dr. Beth Bauer and Dr. Sarah Holman. In addition to her classical training, Alexandra took jazz voice lessons from Bradley Williams. In 2015, Alexandra traveled to Beijing, China for the Asian Opera Project where she performed in Gilbert and Sullivan's Pirates of Penance as Edith and Mascagni's Cavalleria rusticana as a chorus member. Alexandra reigned the stage as The Queen of the Night in Mozart's Magic Flute in Wheaton College's Opera Music Production. Alexandra also toured Seoul, South Korea in 2017 with Wheaton College's Concert Choir.
Alexandra is a kind and highly-trained instructor that is able to help students master difficult music and enjoy the journey of learning and singing. Andra is able to teach students so they can succeed in Show Choir, School Choir, Jazz Ensemble, Rock Bands, Opera, School Musicals, and more. Currently, Alexandra is a section leader for Heartland Voices Choir. Also while at Wheaton, Alexandra performed with Concert Choir, Jazz Ensemble, and Women's Chorale. Other notable projects during her time at Wheaton include: Haydn's The Creation and Mendelsohns's Lobgesang, conducted by Maestro John Nelson, Handel's Messiah, conducted by Dr. John William Trotter, and sang in the chorus for Purcell's Dido and Aeneas. She also received Honorable Mention in Wheaton's Vocal Concerto Competition in 2015.
Alexandra's teaching philosophy is to make learning music attainable to all ages, backgrounds, and learning styles – to dare to think outside the box to ensure success. To be creative, to learn together, to let strengths shine, and ultimately: to make beautiful music. To value both individuality as a performer and teamwork as an ensemble member, believing both to be extremely formative for people of all ages. And as a teacher, striving to figure out the best way to communicate with students and help them learn to love music. In addition to music, Alexandra enjoys swing dancing, socializing, & CrossFit.
It was such a pleasure to work with Andra in one-on-one voice lessons for one semester. She has a distinct gift for singing, but teaching opens up her creativity. I am no great singer, but her exciting, can-do attitude and creative mind instils a shared excitement. She was very clear about her expectations and was eager to help me reach them. Andra is a singularly gifted teacher.

Andra was an amazing voice teacher. She was able to train my voice to sing songs I never thought I could nail, due to her excellent training in breath control, vowel shape, diction, and proper voice protection. She was so encouraging and supportive in my endeavors and I looked forward to our weekly lessons. She is so talented and will help anyone receive the best voice they can have.