Aaron Policastro | Wheaton, IL Double Bass and Cello Teacher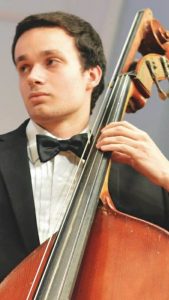 Aaron Policastro is a well-versed, experienced, skilled, and talented Cellist & Double Bassist. Aaron has played with the New Jersey Symphony Orchestra on Cello and Double Bass, and Aaron has also played for the New Jersey Ballet. Aaron also played in the prestigious New York's Carnegie Hall. Aaron regularly performs for symphony and pit orchestras as a professional. Aaron has very strong technique and wonderful musicality, and is phenomenal at making difficult music attainable for his students. Aaron has a wonderful and kind personality and communication style that makes lessons enjoyable for students. Aaron's interpretation of music and the quality of his tone is incredible and extremely beautiful.  Aaron brings his instrumental expertise to help students succeed while also bringing a kind spirit, energy, friendliness, experience, and patience to work with all students, whether their pace of progress is quick or slow. Aaron helps students foster a love for music that helps them work through any obstacle they might face. Students will believe they can do great things and will be taught in a safe environment where they feel free to take on exciting challenges.
Aaron studied Cello under Lincoln Smeltzer of the Chicago Symphony Orchestra, & Aaron studied Double Bass under Andrew Anderson of the Lyric Opera in Chicago. Aaron has also studied Cello under Marry Spinella, and Double Bass under Nathaniel White.
Aaron carries a passion for teaching and enjoys connecting music to students' lives. Aaron utilizes multiple methods in his teaching, including the Suzuki method if a student so desires. Aaron loves music, and wants to impart enjoyment for music into his students. Aaron wants to help them successfully learn their orchestra music for school. In addition to their orchestra music, students have the opportunity to learn any other style and songs they enjoy with Aaron.
Aaron is currently finishing his Bachelors of Music degree at Wheaton College. Aaron is also a member of the Wheaton College Symphony Orchestra as the Principal Double Bassist. In the past, he was in the New Jersey Symphony Youth Orchestra as the Principal Double Bassist, and the Principal Cellist in the Franklin High School Symphony Orchestra. He has received the Principal's Honor in Music Scholarship from Wheaton College, and was awarded the Alfred Green Merit Scholarship. Jerry Evans says that Aaron "has a wonderful sound, a phenomenal tone, great technique, great intonation, and plays beautifully." Aaron is very excited to be teaching at the Jerry Evans School of Music and impacting the lives of younger and older musicians through teaching.