Sean Jeon | Guitar and Ukulele Teacher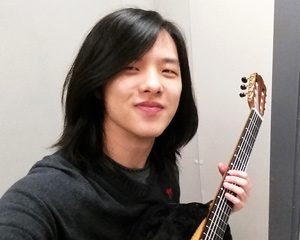 Sean Jeon holds his Bachelor's degree in guitar performance at Northeastern Illinois University. Sean is a highly gifted guitarist that has played for audiences of thousands. Sean can play and teach in any style, such as Rock, Pop, Blues, Classical, Funk, Christian Worship, etc. He has won 1st place prize in the "Bravo!" solo guitar contest in the Central Territory of the USA, and 1st place in the Vincent Oddo Scholarship Competition at NEIU. Sean won the 2nd place prize at Society of American Musicians Competition 2 separate times. Sean has studied with distinguished guitarists such as Dr. Brian L. Torosian, via master classes from Grammy Award winner & world-renowned guitarist Jason Vieaux, Dr. Anna Waller from Northwestern University, Dr. Mark Maxwell from DePaul University, Denis Azabagic from Roosevelt University, and Rene Izquierdo from University of Wisconsin-Milwaukee.
Whether it's Jimi Hendrix, AC/DC, Taylor Swift, Maroon 5, Hillsong, Bethel, Chris Tomlin, the great Classical Guitar compositions, Joe Pass, or more, Sean can teach them to any student at any age. Sean has a friendly, encouraging, and positive attitude that makes lessons a great experience. Sean is a consistent guitar performer as a soloist and in bands. Sean performs the electric guitar in his Church's Worship Band, and he performed the classical guitar as a soloist at the Christmas Benefit concerts at The Salvation Army in 2014 and 2015. He also performs at various events such as weddings, receptions, seminars, and private parties.
Sean is a music lover who fell in love with the guitar at the age of 10 when he first started taking lessons. Sean has a high degree of passion in teaching and helping students as much as he loves performing. Sean cares about the goals of each individual student. Even though different students have different learning purposes and starting points, Sean is a great teacher who helps students find solutions for any challenge they face.