Dr. Terry Schwartz | Wheaton, IL Brass Teacher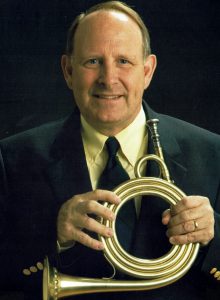 Dr. Terry Schwartz holds a Doctor of Musical Arts in performance and conducting at the American Conservatory of Music in Chicago and has been performing and teaching for over 50 years. He also holds a Master of Music from Yale University and a Bachelor of Arts from Houghton College.
Dr. Schwartz is Professor Emeritus at Wheaton College Conservatory of Music, and he has also taught at Johnson State University in Vermont and Roberts Wesleyan University in New York. While on the faculty at Wheaton College, Schwartz had many performance opportunities, including ensemble and solo performances in England, Switzerland, Poland, Czech Republic, Germany, Russia, and China, where he traveled with Keith Brian's famous New Sousa Band. More recently, Dr. Schwartz has performed in local orchestras and chamber ensembles throughout the Chicago area, including the Chicago Camerata.
Dr. Schwartz has recorded four CDs in the last few years: Cornet Solos of Jules Levy, the Complete book, Characteristic Studies of Herbert L. Clarke, Duets From the Turn of the Century, and a collection of 50 Songs for Young Players. Since there are double tracks recorded for each of the 50 songs, students can play these pieces with accompaniment. He has also written a text for beginners, Foundations of Trumpet Playing.
He has studied under Keith Clarke (the principal trumpet of the US Army Band), Robert Nagel (founder of the NY Brass Quintet), and John Swallow (CSO) among others. He also had the opportunity to study at the Institute for Advanced Music Studies in Montreux, Switzerland, where he performed under conductor Otto Klemperer and Daniel Lewis of the LA Symphony.
Schwartz is currently retired but continues his busy schedule performing and teaching. He has become interested in the long-straight valveless "natural" trumpet. He built a replica of a 1604 trumpet with help from a German craftsman and faculty member from Indiana University. He also performs on the coiled 18th century Jager trumpet.