Jonathan Samuel | Wheaton IL Brass Teacher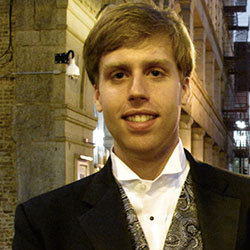 Jonathan Samuel, a Chicago suburbs native, earned his Bachelor of Music in Music Education from Roosevelt University in the Chicago College of Performing Arts. Jonathan Samuel has played internationally and played with the Yucatan Symphony Orchestra in Merida, Mexico. Jonathan has also played with the Chicago Metropolitan Orchestra, the Chicago Sinfonietta, the Salt Creek Ballet, and was featured twice on 98.7 WFMT with the CCPA Brass Quintet. Jonathan currently holds an Illinois State Board of Education teaching certificate in K-12 music education.
Jonathan brings his extensive Brass expertise to help students succeed while also bringing a kind spirit, friendliness, experience, a fun attitude, and patience to work with all students, whether their pace of progress is quick or slow. Jonathan helps students foster a love for music that helps them work through any obstacle they might face. Students will believe they can do great things and will be taught in a safe environment where they feel free to take on exciting challenges.
Jonathan has had the privilege of studying with Gene Pokorny of the Chicago Symphony Orchestra, and also Charlie Schuchat of the Elgin Symphony Orchestra. Additionally, Jon is an active member of the National Association for Music Education and Illinois Music Educators Association.
Jonathan teaches private brass lessons and has instructed full concert bands all throughout the Chicagoland area. Jonathan is an expert in brass instruments and has playing and teaching ability in the Trumpet, Trombone, French Horn, Tuba, and the Euphonium. In addition to his teaching, Jonathan regularly performs in brass ensembles throughout Chicagoland. Jonathan has also served as Principal Tubist of the Chicago College of Performing Arts Orchestra, Wind Ensemble, and the Chicago Youth Symphony Orchestra. In addition to being a teacher and performer, Jon has worked professionally as a brass instrument repair technician. Thus he is well versed in upkeep and maintenance.
As a teacher, Jon believes in student-centered learning. Jon believes that all musical endeavors should be enjoyable and seeks to keep his students having fun. He devises the curriculum of each student in order to promote good fundamentals and push the student musically while giving them the opportunity to find what inspires them so that they can choose their musical path of enjoyment.