Dr. Ryan Thielman | Wheaton, IL Brass Teacher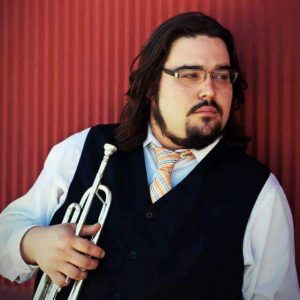 Dr. Ryan Thielman is an in-demand performer, arranger, and educator across the Chicagoland area. Dr. Thielman holds a Doctor of Musical Arts degree in trumpet performance from the University of Missouri at Kansas City, a Master of Arts degree in jazz performance from the University of Cincinnati, and a Bachelor of Arts degree in jazz performance from Roosevelt University. Dr. Thielman has taught at the college level as a guest lecturer in the classroom as well an ensemble coach.
Dr. Thielman has performed with multiple award-winning artists including Buddy Guy, B.B. King, Tito Puente Jr., Tech N9ne, Susan Tedeschi, Elle King, The O'Jays, and Bobby Watson.
As an ensemble leader, Dr. Thielman co-founded and
co-led the Foundation 627 Big Band of Kansas City, the Ryan Thielman Jazz Quartet, the Dexter Gordon Tribute Society Red, and the Greenlight Jazz Duo. As a side man, Dr. Thielman regularly performs with the Chicago Blues Allstars, The Marty Sammons Orchestra, and the Mike Dangerous Orchestra throughout Chicago.
Dr. Thielman's film and studio credits include the jazz documentary Kansas City and All That Jazz, two studio records with acclaimed rapper Tech N9ne: The Storm and Off My Square, and Eric Chapman's award-winning album 364 Days.
Dr. Ryan Thielman is excited to work with our brass students, teaching them trumpet, French horn, trombone, euphonium, and tuba. He hopes to share his passion for music and bring a fun environment to learning with his students as they learn.