Zachary Belles | Wheaton IL Brass Teacher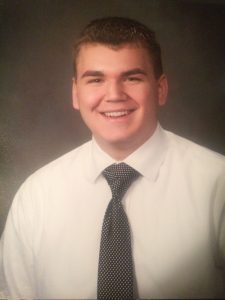 Zachary Belles holds his Bachelors Degree in Music Education from North Central College, and he holds his Music Minor in Composition. Zachary is very well versed in the techniques of all brass instruments, and he teaches Trumpet, Trombone, French Horn, Euphonium, & Tuba.
Zachary Belles teaches using the methods of leading Brass musicians and educators. Zachary studied Trombone under Chelsea French, the winner of 1st prize in the International Trombone Association's Marstellar Trombone Competition, and a member of the Chicago Civic Orchestra. Zachary also studies Trumpet under Nico Segal, who has recorded with three time Grammy Award winning artist "Chance the Rapper", and recorded for Grammy Award winner and music icon Neil Young.  Zachary has studied under Director Victor Anderson, who was named "Best Music Educator" in Illinois by Band and Orchestra Magazine, and was nominated for a Grammy Award in Music Education. Zachary is also an experienced low brass player and has performance experience playing with the Waubonsee Community College on Tuba. He also Traveled to Italy with North Central College's Jazz Band and performed in front of the Milan Cathedral with over 1000 people watching. While in High School, his High School Wind Ensemble opened for the Chicago Symphony Orchestra.
Zachary has a history of success in competitions. While at North Central College, Zachary had participated in two different solo competitions and won 1st prize in both of them. With that prize, he performed with a full orchestral accompaniment and over 500 people in attendance. Zachary's High School Marching Band was invited to the University of Illinois SuperState Honor Band Festival all 4 years, and his Band won 1st prize both times they were eligible.
While at North Central, Zachary studied under the composer of the Picosa Strings, Jonathon Kirk whose style of composing has been performed in 6 different continents and over 15 different countries.
Zachary is excited to teach at the Jerry Evans School of Music, and is looking forward to impacting the lives of students, experiencing the joys of music, and helping students achieve their goals.
Testimonials About Zachary Belles
Zachary has been a tremendous help with my daughter Zoey for the past few months and she has grown so much with her instrument. I'm glad we went to him instead of anybody else!

Excels at all ages! He has been teaching my 7 year old for a couple of months and he actually sounds really good now. I can't wait to see what will happen after a few years of lessons with Mr. Zach!

Unparalleled skill level on the trombone. He has been teaching my daughter, Debbie for the past three years when she switched from flute and she is phenomenal on the trombone. Couldn't ask for a better instructor.