Karene Lo Galbo | Wheaton Viola & Violin Teacher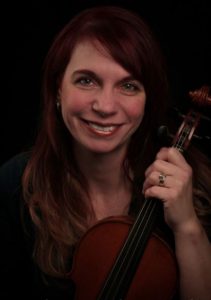 Karene Lo Galbo teaches Violin & Viola at the Jerry Evans School of Music, and has been teaching for 17 years. She graduated with a Bachelor of Arts in Music form North Central College in Naperville, Illinois. Karene also grew up in France and learned under the international instructor & performer, Anne Jodry, in the French system of Strings education, which is one of the top Strings systems in the entire world. Karene studied for over twelve years at Le Concervatoire de Musique de Fresnes, a branch of Le Concervatoire de musique de Paris in France.
Karene brings her extensive instrumental expertise to help students succeed while also bringing a kind spirit, friendliness, experience, and patience to work with all students, whether their pace of progress is quick or slow. Karene helps students foster a love for music that helps them work through any obstacle they might face. Students will believe they can do great things and will be taught in a safe environment where they feel free to take on exciting challenges.
Karene can help any Violin & Viola student excel in their orchestras and ensembles at their schools, and will work hand in hand with the music that the student's orchestra director requires. Additionally, Karene creates opportunities to play other fun music and styles outside of orchestra to help enhance their enjoyment in music. Karene can use multiple approaches in teaching her students, but finds the right approach for each student that helps them succeed. Among other methods, Karene is also familiar with and can utilize the Suzuki method if the student or parent desires. Karene has a kind personality, and finds her true passion in teaching and watching her students grow and flourish musically.
Karene has taught in a number of other environments, such as pre‐school music and movement classes. She also teaches music classes, from kindergarten through twelfth grade, for a number of local schools such as Wheaton Christian Grammar School, and Wheaton Academy. Karene draws from her expanded musical teaching experiences to enhance her lessons to serve students better. In addition, Karene holds a membership with NATS (National Association of Teachers of Singing). She also holds a Musikgarten Certification, an early childhood music and movement program and curriculum. In Karene's spare time, she performs with the Glen Ellyn‐Wheaton Chorale and their smaller ensemble, and loves performing.
My daughter takes Violin lessons with Karene and really enjoys her lessons. We have been so impressed with how much our daughter has learned! At the recital last weekend, it was amazing to see the talented violin players! We are looking forward to many more years of Violin lessons!

Karene has done a great job working on both technique and musicality with my son on Viola. She is a good balance of being encouraging and disciplined in the lessons. She picks a nice variety of music for him. His orchestra teacher has commented on his improvement too.

My daughter takes Violin lessons with Karene and she is about as kind and enthusiastic a teacher you could ask for. My daughter's school does not have an orchestra so Jerry Evans School of Music has provided a wonderful opportunity for both private lessons and performances in a recital setting. With Karene as her teacher, I feel she will be ready for high school orchestra when she is done with 8th grade next year!

I am a beginning Violin player and am a little older than most people I know who start playing a musical instrument (46 years old). Karene accurately evaluated my skill level and is working with me to elevate my skills to a much higher level. I have had two instructors before Karene, and I think she is the best one. I can definitely say that Karene is a very good instructor and I will continue to takes lessons with her.

I enjoy my Viola lessons with Karene very much. She teaches not only the basic techniques of playing (fingering,bowing etc), she also encourages mastering the finesse of the music: its tempo, tone and style. In addition to working through the student book, she's given me the opportunity to work on contemporary songs, and that's been a lot of fun. Karene is a supportive and motivating teacher who gently pushes me to keep improving. It's clear she's passionate about music and sharing that with her students.