David Christensen | Guitar, Ukulele, and Drum Teacher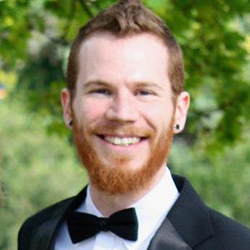 David Christensen was raised in Belgium in the heart of Europe. His parents were professional musicians and brought him up in a musical background. In fact, they took him around the world on their tours. David started playing music at age thirteen and joined his parents professionally at eighteen. David plays the drums, ukulele, acoustic and electric guitar, as well as a number of other instruments. David's formal music education began at the local Belgian youth-conservatory, then continued it at the Wheaton College Conservatory of Music.
Looking back through a lifetime of music, David hopes to pass on the musical blessings that have been afforded him. From touring the world with professional musicians, to the completion of his Music Composition degree at Wheaton, his broad experience has equipped him to instruct with excellence, clarity, energy, compassion, and in multiple musical styles. David loves to affirm and inspire students through music. He believes it opens the door to their musical potential, and the creativity that they can also bring to music.
Testimonials About David Christensen
David has an excellence to both his craft as well as his attitude. He promotes an "anything is possible" environment where students can excel, while providing a step by step process which is palpable for individuals or bands to learn from. In a phrase, he empowers you personally and practically. You will not be sorry investing in Jerry Evans School of Music.

My son has been taking drum lessons from David for about 4 months. I'm amazed at how excited my son has become about his drumming, as well as his improvement in abilities. He enjoys both his lessons and his practice, and I think a lot of that is the enthusiasm that David brings to his teaching. Thank you for encouraging and helping my son in his love of music!

We've really enjoyed the guitar lessons we've been taking from you. Nic has said how much he appreciates the fact that you always focus on the positive things that he's doing. You also try to accommodate Nic's taste in music, cautioning him when a piece is a lot more difficult than he may realize. This has been a great experience and we look forward to more lessons!

Nathan was so excited about us signing him up for drums. David is an incredible teacher! He's gifted with kids, his instructions are clear and he's super encouraging. Even though Nathan is in the beginning stage of drills and getting the hang of things, David knows how to keep it fun. Nathan has been raving about being able to play "We will rock you" pretty soon. Multiple studies link music to academic success. In Nathan's case, we've seen how the study of rhythm has aided his overall ability to focus and concentrate, not to mention providing the life-long lesson of persevering and sticking with something. Very well worth it. Big thanks to David and the JESM team.