Joshua Zajac | Wheaton, IL Double Bass and Cello Teacher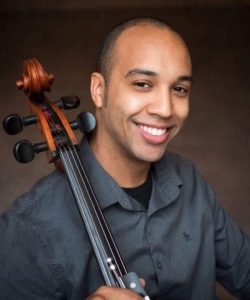 Joshua Zajac is a cello & double bass instructor that holds a Bachelor's and Master's Degree from the Cleveland Institute of Music. Joshua was principal chair of the Chicago Civic Orchestra on cello under the direction of Cliff Colnot between 2011-2013. His term with Civic concluded with a performance as soloist in Strauss' Don Quixote at the Community Cultural Center of Chicago. Joshua is also an active guest with the Chicago Symphony's MusicNow series and has played under the baton of many leading contemporary music conductors, including Esa Pekka Salonen. Community centered programs through the Civic Orchestra provided an opportunity for Joshua to work alongside Yo-Yo Ma in various venues mixed with performance and education on multiple occasions. Joshua was the Racine Symphony's Artist in Residence of 2020. He concluded his residency with the orchestra as soloist with the orchestra, playing the Concerto in C Major by Haydn under Pasquale Laurino. His summer festival engagements include two years at Tanglewood, where he was recipient of the 2011 Samuel H. Mayes Memorial Cello Award.
While at the Cleveland Institute of Music, Joshua studied cello with Stephen Geber. Prior to college, he spent two years studying with Richard Hirschl of the Chicago Symphony Orchestra.
Although skilled in the classical music on cello & double bass, Joshua commits himself to performing alternative styles of music in the Chicagoland area as a chamber musician, studio musician, and soloist. He regularly drafts transcriptions of contemporary music for cello to boost popularity with the instrument and showcase its diversity for his students. Joshua also performs on electric bass regularly for his church. Joshua aspires to bridge the relationship of pursuing excellency with his craft in tandem with communicating the goodness of his character. He is proud to have joined the faculty of Credo chamber music in Oberlin Ohio in 2021, as well as the Jerry Evans School of Music in Wheaton in the same year.
Testimonials About Joshua Zajac
I strongly believe that my son is still playing the cello because of Josh's positive influence during the past 5 years. Josh's dedication to music and to his students is evident. His warm-heartedness and enthusiasm is infectious. Josh has a unique way of explaining new topics by using analogies; this helps to reinforce learning in terms my son can understand.

Our son has known Josh for about two years, and we've seen so much growth under his guidance. Josh uses just the right mix of technical work and fun, and arranges pieces especially for our son to keep him invested by targeting music that he really loves and loves to play. Our son is ADHD and this can make for challenging lessons at times. But Josh shows immense compassion and patience and we work together to come up with solutions to keep the learning coming! We've never experienced such a high level of dedication and willingness to problem solve with any other private teacher, and we feel so fortunate to have such a talented musician in our camp!

Josh worked with my son for six years, and during that time he had a major impact on my son's ability and musicianship. Josh is very personable and related very naturally with my son, both encouraging him and challenging him each week. What stands out most is that Josh taught his students to tell a story with the music they played, and this was a unique approach that helped my son reach the next level and landed him a spot in the CYSO.

Mr. Zajac is a truly extraordinary cello teacher who inspired my son in so many ways. He is a unique teacher, who is obviously an excellent musician himself and I always appreciated how he would play his own cello for my son. He leads by example and continues to be a passionate student himself, desiring excellence in all he does. He is truly a role model who will captivate your child to grow in their love for music, as they watch him joyfully play! (it is contagious) He is the perfect balance of structure and discipline, along with being attuned to your child's learning style and adapting lessons to meet them where the student is at, while at the same time taking them further than they ever thought they could go. Mr. Zajac will truly pour himself into your child, try to get to know them and connect with them to bring them music that will challenge them and bring them joy.

Josh Zajac has been my daughter's cello instructor for over 2 years. Through his instruction, she has flourished and been able to play increasingly more difficult and beautiful music with confidence. Josh's personality makes the lesson both fun and instructive. He asks questions of the students to guide them to the answers on their own, and he frequently applies real life examples in his teaching.

My daughter has been taking lessons with Josh for over 8 years. She loved working with Josh because he has an easy rapport with his students and is very encouraging. Josh is an excellent cellist and inspired my daughter to want to play well for him. Josh is very relatable to students of all ages.