Raluca Bojor | Wheaton Piano Lessons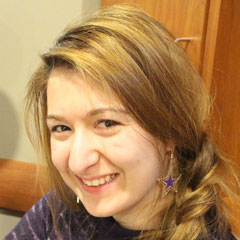 Raluca Bojor is a graduate of the Wheaton College Conservatory, where she earned a Bachelor of Music degree with Elective Studies. She had the privilege of studying piano under Dr. Karin Redekopp Edwards. Raluca is a highly trained pianist with skill in Classical, Pop, Blues, Jazz, & other musical styles. Raluca started her training at the age of six, and has invested much of her time in piano performance. In addition, she has experience in teaching, composing, orchestrating, arranging, conducting, accompanying, and songwriting.
Growing up in Romania, music played a very significant role in her life. Raluca's school, Liceul de Muzică "Tudor Ciortea" gave her the ability to take weekly piano lessons and theory classes from grades 1-12. Moreover, she spent her summers in the US, attending Stamps-Baxter School of Music, the Alabama School of Gospel Music, and the Southern Gospel Music School of America. A double winner of the Anthony Burger Scholarship Award, she had the opportunity to learn the basics of improvisation and songwriting. During this time, she took part in the music ministry of First Baptist Church of Braşov, Romania, which allowed her to improve her musical skills on many levels.
During her time at Wheaton College, Raluca received the Best Music Award, alongside co-writer Christopher Hills, for their Junior Class Film's soundtrack, "Gotta Call Cupid". Raluca was also privileged to be selected as the music director of an all female a cappella group, "One a-Chord", which she led for two years. During her final year of studies, Raluca spent a significant amount of time being involved in the music ministry of local churches. She has served as the Assistant Music Director at West Suburban Community Church in Elmhurst, IL and also the Interim Music Director of Southminster Presbyterian Church in Glen Ellyn, IL.
Starting Her Career
After graduation, Raluca quickly followed her dream of becoming a freelance musician. She is in high demand as a teacher, collaborator, and performer in the Chicago area. Raluca has worked with Timothy Christian Schools, Wheaton Yamaha Music School, Luscombe Music, Des Plaines School of Music, and Hope Publishing Company. She has served as a substitute pianist, organist, and choral director in local churches, including Southminster Presbyterian Church, Living Faith Bible Church, Betel Romanian Baptist Church, and Wheaton Christian Reformed Church.
Then, in the fall of 2015, Raluca published her first book of piano arrangements, featuring Romanian and international Christmas carols for intermediate pianists; it has been sold in both Romania and the United States. She is now in the process of writing a second book which will be published in the next two years.
Raluca has a passion for teaching and desires to help students succeed beyond their expectations! She is excited to be a part of the Jerry Evans School of Music to help students learn the styles they enjoy in a fun and encouraging environment!
Listening Samples
My latest piano solo arrangement:
Disney Medley (Piano Studio Version)
Testimonials About Raluca Bojor
Raluca is a very supportive teacher. She is very smart when it comes to music; she's also very smart at everything! Raluca is kind and nice. Even if she makes mistakes, she is perfect for me! She is the best teacher ever!

Raluca is an excellent teacher who is patient, and a ton of fun to work under! She knows how to teach concepts simply in a way her students can understand and even relate to. She knows the tricks of the trade, and has such a gift of teaching to all ages. I highly recommend her.

Ms. Bojor has been a wonderful teacher to our 7 yr old daughter. For the past five months I have witness Ms. Bojor teaching skills as she expresses attention to detail, how she has a talent for thoroughness and always expresses a positive personal attitude.
We will continue enjoying Ms. Bojor highly personalized one-on-one interaction with our daughter as our daughter continues to develop key skills in music from Ms. Bojor that she will carry throughout her life.

Raluca has spent a significant amount of time teaching my daughter music theory – this not only helped Becky stay focused in her piano lessons, but allowed her to understand her repertoire on a more profound level. Speaking of staying focused, Raluca is able to maintain the attention of a 7 year-old for a full hour, which is impressive! As a teacher, she is sensitive to her students' musical preferences, but always makes sure that the they move forward with their music education regardless of the style of music they work on in their lessons. Raluca is also very punctual, and has great communication skills, which made scheduling very easy between her and our family.

Taking piano lessons with Raluca was a great opportunity for my brother and me. He had the chance to understand music from a new, fresh perspective, and I was finally able to make connections between piano playing and music theory. I also believe her style of teaching is very good; Raluca is very nice and calm with her students.