Tim Krahenbuhl | Drum Set & Orchestral Percussion Instructor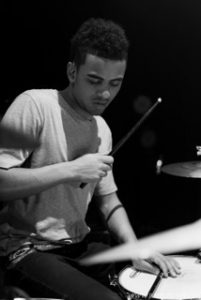 Tim Krahenbuhl is a skilled drummer, percussionist, and instructor from Chicago. Tim holds his Bachelors in Music Performance degree from Roosevelt University, and studied with Grammy award winning drummer Paul Wertico at the Chicago College of Performing Arts on a scholarship. He has performed on WGN Television with Amber, a member of the cast of Hamilton. Tim performed on Windy City Live with Ethan Butler, who was featured on NBC's The Voice. He also had the opportunity to perform at Lalapalooza with the cast of the Broadway Show Hamilton. Tim can be seen playing regularly at Willow Creek Community Church in South Barrington in front of 5,000 people.
Tim also has been teaching for close to 10 years. Tim's teaching style focuses on teaching students the songs that they are passionate about, and including rudiments and theory in the measure that is right for each student. He works patiently with students by adapting methods to cater to their personal goals and by incorporating rudiments and linear drumming together to develop their independence. One student said, "I didn't like practicing rudiments until Tim was my teacher." Tim is a hard-working and passionate musician who loves seeing the next generation grow.
Tim is skilled at playing in Rock, Pop, Blues, Gospel, Christian Worship, Classical, and more. While being a great drummer, Tim is also skilled in Orchestral/Band music, and can help any student thrive in their school orchestra, concert band, or even jazz band. Growing up, he was heavily influenced by Tony Williams, Aaron Spears, and Calvin Rodgers. At the age of twelve he began to play at church and joined the school concert band, jazz band, and pep band and remained in them until college.