Johnny Seguin | Drum Set & Orchestral Percussion Instructor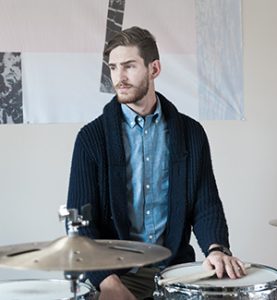 Johnny Seguin holds his Bachelors Degree in Music from Columbia College in Contemporary, Urban & Popular Music as well as Audio Design & Production and Music Business. Johnny Seguin is very experienced on Drum Set in all styles of music (Rock/Pop/Blues/Jazz/Funk/Christian/etc…), as well as Classical Orchestral Percussion (such as Marimba, Snare, and Timpani). Johnny has performed with country-rock star, Keith Urban at the All-State Arena. He was selected to be a member of All-American Marching Band in high school, and at eighteen he became a member of the Chicago Bears and the Chicago Bulls Drumline. At Columbia Johnny studied under Tom Hipskind, the drummer for the hit musical Hamilton, and veteran Chicago Musician who holds his Masters of Jazz Studies from Depaul University.
During his time at Columbia, Johnny was also selected to study at the prestigious, Popakademie Baden-Wurtemburg in Mannheim, Germany. At Popakademie he worked with giants of the International music scene. Studying with Udo Damen, legendary session drummer, Stephen Emig, touring drummer/percussionist in German pop music, Florian Alexander, award winning musical clinician, Robert Glasper, Multi Grammy winning Jazz pianist and producer, and Benny Greb, independent drummer and internet sensation. At Columbia, Johnny also studied with Jarrett Hicks, a prominent musician who holds a Masters of Percussion Performance from University of Nevada.
In school Johnny stayed active playing with many ensembles including: Pop Orchestra, Pop Rock, Hip-Hop, Progressive Rock, Jazz Combo, Guitar Ensemble, Recording & Performance Ensemble, and the Percussion Ensemble. As a result he had opportunities to perform at venues all over the city, including the historic Chicago Theater.
Johnny began playing piano at the age of five and drums at eight, falling in love with the craft early on. Before leaving middle school he was a decorated jazz musician and playing shows around Chicago-land. Throughout his time in high school, he was also an active member of the Cavaliers Indoor Percussion Ensemble and later the Pioneer Indoor Percussion Ensemble. Currently, Johnny is playing, recording, and teaching around Chicago. After years of study, he has become acute in attaining success with music and is eager to share his knowledge. He is exceptional at making the complex simple, and making the confusing clear. Johnny hopes that through sharing his insights, experiences and love for music, he can inspire and create a path for students to believe and achieve their dreams.