Stephen Utterback | Drum Set & Orchestral Percussion Instructor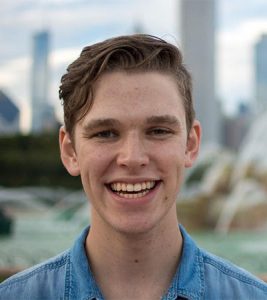 Stephen Utterback, a Wheaton native, holds his Bachelors Degree in Music from the Wheaton College Conservatory. Stephen has studied under multiple renowned educators on Drum Set & Percussion. Stephen has studied under Michael Folker (who has played for Grammy Award winning artist Kelly Clarkson, The Moody Blues, and the Chicago Sinfonietta). Stephen has also studied under Dr. Elizabeth Bauer, Dr. Kathleen Kastner, and the well known Jazz Drummer Lucas Gillan.
Stephen is a phenomenal performer and has played in front of audiences of thousands. He is an experienced educator on the Drum Set in any primary style (Rock/Pop/Metal/Christian/Gospel/Jazz/Funk/etc.), and he loves to help students learn the style they are passionate about while giving them instruction using solid technique and fundamentals.  Stephen is also an experienced Percussionist, and can teach any student in Classical Orchestras, Wind Ensembles, Drum Line for Marching Band, Chamber Groups, Solos, etc….
Stephen is also currently on staff with Wheaton North High School working with their Orchestral, Band, and Marching Band programs. During his professional career, Stephen has focused on teaching private lessons in a wide variety of educational settings, student age-ranges, and also with students who have cognitive disabilities. Stephen plays with his band Sapphire Sea, a progressive rock band that explores the depths of music theory and music complexity.
Stephen's philosophy of education aims for his students to come away from their lessons knowing more about both Drums/Percussion and themselves. Watching students grow in curiosity, motivation, knowledge and confidence is a deeply rewarding experience and Stephen has found himself impassioned by this process as he continues to move further in his career of teaching.
During Stephen's time in High School, his Wind Ensemble was nationally recognized as one of the top twelve high school ensembles in the United States at the National Concert Band Festival in Indianapolis.
Stephen is excited to be on staff with the Jerry Evans School of Music, and is looking forward to empowering his students to connect to music, become passionate about playing music, and to go beyond what they thought they could ever do in music.
Testimonials About Stephen Utterback
Stephen very quickly earned our son's admiration and respect and built a strong connection that has endured through several months of private study. Stephen is relaxed, but focused on the material our son is working to master. Inspiring teen-agers to practice challenging music is a real gift, and we have remained amazed at Stephen's ability to maintain a level of intensity and deep enjoyment of music that has become an area of focus and identity in our son's life. He continues to practice, improve, and discover great joy in his instrument. We are thrilled, and very grateful.

I like taking drum lessons with Mr. Utterback because he motivates me to want to play and learn more and he understands what the right pace is for me. He makes it fun to take lessons because he has a good sense of humor too.

Stephen is a great teacher. He tries to get to know me better by asking me questions each week. He gives me something to play, watches me play, and gives me feedback on what I did right and what I need to work on. He explains everything in a way that is easy to understand. Because of his instruction I have learned a lot and enjoy percussion so much more!

Mr. Utterback has been very flexible with us as far as scheduling and was very creative in finding a solution that worked for us. Our son is enjoying his lessons very much!